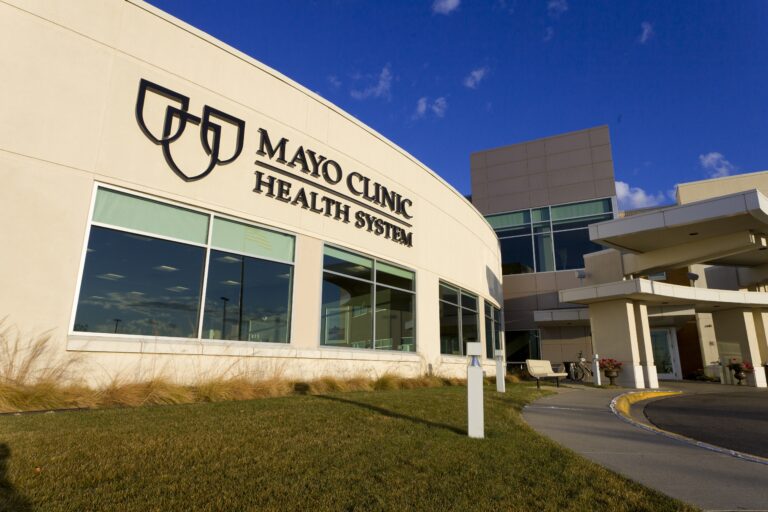 As part of a system of sites in Minnesota, Wisconsin and Iowa, Mayo Clinic Health System in Owatonna serves the community through routine, preventive and specialized care services, wellness support and community engagement.
Our collaboration with Mayo Clinic connects you with the most trusted, specialty care in the U.S. We bring the most recognized medical expertise close to where you live. Your health care needs always come first at Mayo Clinic Health System in Owatonna, whether that means primary care or specialty services.
Over 75 years of community care
Starting as the Owatonna Clinic, founded by doctors Albert J. Olson and Franklin C. Anderson in 1948, Mayo Clinic Health System in Owatonna continues to put the needs of our patients first as we deliver safe, high-quality patient care to the Owatonna and surrounding communities.
Today, our team in Owatonna of nearly 450 staff, collaborate with a network of community-focused hospitals and clinics – nearly 16,500 staff in all – bringing you the best care possible.
"Mayo Clinic Health System has always understood that it is responsible for providing care and leading the care delivered in the community. That means that if the community needs family medicine, internal medicine, medical specialty or surgical care, there is a responsibility to provide that care the way you would want it offered to your family, friends and neighbors. The community entrusts in us their health."
Brian Bunkers, M.D., Family Medicine
Community engagement
A healthy community requires more than access to medical services. Our commitment to the health of our patients, co-workers, families, and neighbors extends beyond the walls of our facilities. Through our community engagement initiatives, we work to ensure that our region remains a great place to live, work, learn, raise families and be healthy.
Specific components of our community engagement programs include:
Community Health Improvement – address health needs identified in our community.
Community Partnerships – work with other non-profits and government agencies to maximize resources and achieve better outcomes for the benefit of the community.
Leadership and Staff Engagement – serve on community boards and volunteer in our community.
Funding and In-Kind Support – engage with organizations, programs and events with funding to promote health and well-being.
Community Education – share the expertise of Mayo Clinic addressing a variety of health topics.
Through the years, Mayo Clinic Health System defined its commitment to improving community health and wellness by collaborating with local organizations to support community growth and development.  Learn more at mayoclinichealthsystem.org/owatonna.