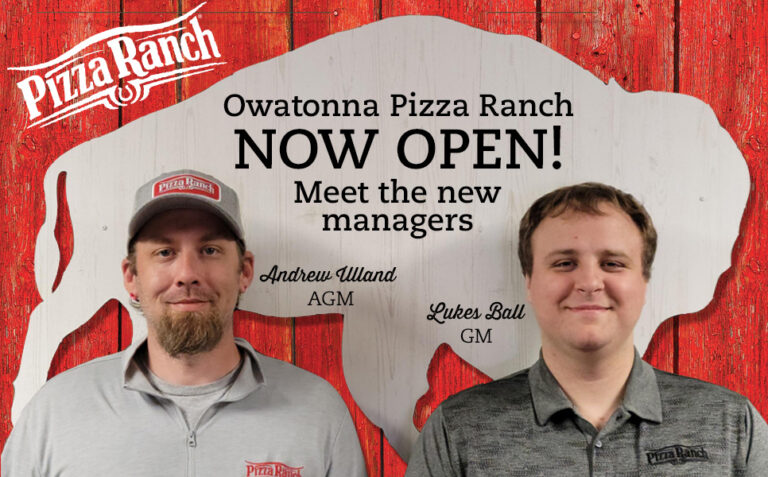 Pizza Ranch is a popular downtown favorite serving in Owatonna since 2006. Their family-friendly buffet restaurant includes specialty pizzas, chicken, salad bar, and dessert- and most importantly their signature Cactus Bread! Pizza Ranch strives to please every customer by sticking to their mission: to give every guest a legendary experience. This is the perfect place for all ages to enjoy a delicious meal. They make sure to please their customers by offering special kids and senior pricing. An extra bonus is that all kids 8 & under can eat free every Tuesday from 5-8!
Pizza Ranch was founded in 1981 when Adrie Groeneweg opened its first location in Hull, Iowa. There is now a total of 215 locations across 14 states, and we are lucky enough to have one right here in downtown Owatonna. You can find them at 142 W Broadway Street, Owatonna, MN 55060 right across from the American Legion. They are open every day from 11:00am-8:00pm; you can enjoy their delicious menu items downtown or right from your home with carryout.
A well-known special feature about Pizza Ranch is their commitment to community.
They support local causes and charities with fundraising opportunities, and they support organizations through sponsorships and donations. If you're looking for the perfect space for a large group, get together, Pizza Ranch is the place for you! Their community room seats up to 60 guests and gladly takes reservations for any party, reunion, or get together. If you'd rather them bring the party to you, you can utilize their catering services by calling or filling out a request on their website.
If you want to learn more about Pizza Ranch in Owatonna, MN call (507) 446-9990 or head on over to their website at pizzaranch.com for more information on menu, hours, deals, and services available. For employment opportunities stop in to visit in person General Manager Lukes Ball or Assistant General Manager Andrew Ulland.